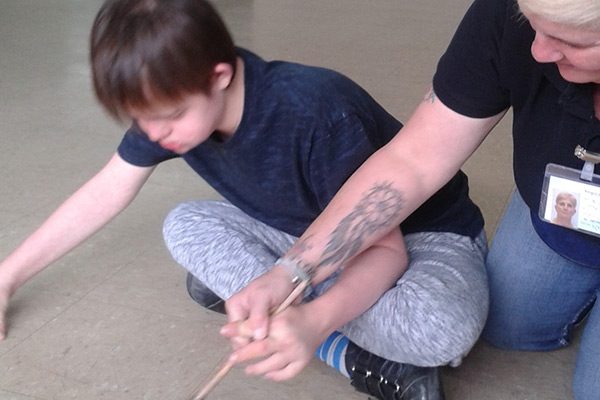 Scott's smooth transition
Late morning on a leafy overcast autumn November day Scott and his mum attended a transition event at Scott's school, Oscott Manor.  They came with one goal; to get a grasp of transitioning Scott from school into an adult service the following summer.
The school widely publicises the importance of transition and every year invites parents to a special transition focused event.  Like most special schools they are eager to help parents avoid the stresses and strains of failing to plan for transition and falling into the 'transition trap.'
Aware of the pressure on their shoulders to make the best decision possible, aware that adults services are vastly different to child services and aware of Scott's support and educational needs they set about the task of finding a person-centred transition pathway for Scott.
Early spring and it was time to look at a few options, with referral forms filled in and sent off it was time to go. One option was Care First's Skills Tank who asked to complete a holistic assessment with the school's involvement to make sure they could build a person-centred transition around Scott's needs.
It is this person-centred transition pathway that proved crucial in reducing the stress and destabilising effect transition could have had on Scott.
Long before Scott was due to leave school Skills Tank staff began to work with him.  One of our Learning Mentors, Emily, initially went to visit Scott in his school surroundings.  Other staff also went to observe, to get to know and understand Scott whilst giving Scott the opportunity to get to know, trust and feel comfortable with them.
After a few weeks, Emily could see that her centre (Signal House 2 in Great Barr) would not be as suitable for Scott as Pheasey, one of the other hubs.  At this point, Emily recommended Trudi visit Scott and assess his suitability for the Pheasey Hub. It was as Emily thought; Pheasey hub will meet Scott's needs better than Signal 2 hub.
This approach avoided a chunk of hassle, stress, and destabilising effects for Scott.
More visits where planned to work with Scott while he was at school to learn about him, his needs, and his routines and for him to build his trust and his acceptance of Trudi and her staff.  Part of the way through these sessions Scott asked Trudi to attend his prom, a big step forward and a big privilege.
After Trudi's team had spent time working with Scott, understanding, and building Scott's trust, in the surroundings he was comfortable with, his teachers, his community nurse and his mum felt that a break between school and coming to Pheasey Hub would be more detrimental than constructive.
3 days after leaving school, Scott began his journey into adult services and as the saying goes he has not looked back! Scott's mom, who cares for him says she is very pleased with his smooth-running transition process.
Scott travels to and from Skills Tank in a taxi with a member of our staff to accompany him. This allows mom to be able to take and collect her 2 other children to and from school.
Scott has adapted amazingly well to his new surroundings, as each week goes by he becomes more receptive to staff and he freely follows more instructions.  We are looking forward to watching him thrive with us over the coming months and years.
It is now late October and Scott's calmness and willingness to adopt his new routines are clear indicators his transition path has been a success.
The time invested by everyone has helped Scott and reduced most of the stresses and strains often associated when transitioning from school to adult services.
To give you a greater understanding of Scott.
He is a sensory learner, he enjoys his time shaking and feeling "noisy" objects, spending time in our ball pit, bouncing on large gymnasium balls and mixing ingredients for baking.
Scott accesses Skills Tank 5 days a week which gives his mom some much needed time to be able to catch up with other tasks, chores, and appointments, that she would otherwise struggle to do.